Public SSR
Microsatellite (SSR) markers are important resources for mapping in heterozygous species like grapevine.
Public SSR markers can be retrieved from the UniSTS database at NCBI .
Genetic maps
Several maps are constructed using the available set of SSR markers and can be retrieved from : GnpMap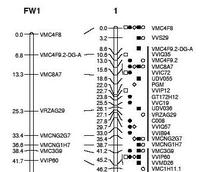 Physical map
The Cabernet-Sauvignon physical map is available at : CMap
Comparative map
CMap 12X and 8X : Comparative map between genome sequence and grapevine reference genetic map.