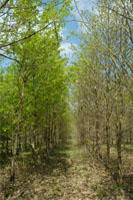 As part of the Forest tree GnpIS project, several forest trees species and their associated data can be found in GnpIS .
These data are provided by different sources (projects and networks) listed on this page .
Data overview
Data for Abies, Betula, Castanea, Fagus, Fraxinus, Picea, Pinus, Populus, Quercus, Salix, Sorbus, Taxus and Ulmus species are available in GnpIS.
Their access is free

or restricted

.
Genome sequencing and annotation overview
| | | | |
| --- | --- | --- | --- |
| | Blast | Genome Browser | Intermine |
| 717-1B4 draft genome sequence | | | |
| Populus trichocarpa V1 | | | |
| Populus trichocarpa V2 | | | |
| Populus trichocarpa V3 | | | |
| Quercus robur genome assembly PM1N (Haploid version: 12 pseudo molecules with 871 scaffolds + 538 unassigned scaffolds) | | | |
| Quercus robur genome assembly V2_2N (Diploid version 2, 8827 scaffolds) | | | |
| Quercus robur genome assembly V1_2N (Diploid version 1, 17910 scaffolds, Plomion et al, 2015) | | | |
Genetic and genomic data overview on 15/02/2019
#Total
#Public
#Private
Genetic Resources

Taxon
187
187
0
Accession
34439
19448
14991
Phenotyping

Trial
243
56
187
Lot
9680
2834
6846
Variable
351
210
145
Observation
2474805
812979
1661826
Genotyping

Experiment
7
7
0
Lot
714
714
0
Sequence

Experiment
1
1
0
Sequence
82
82
0
Analysis
0
0
0
Genetic Map

Map
33
29
4
Marker
7587
7088
505
QTL
1022
723
299