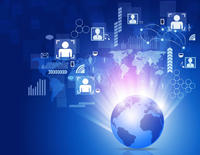 The access to truly FAIR (Findable, Accessible, Interoperable and Reusable) data remains a challenge for plant biologists and hampers the emergence of new research hypothesis or results from the integration of existing data. URGI develops tools and approaches to make both data and information systems interoperable and tests them through its information system, GnpIS , with the aim to contribute to help the plant research community to cope with this challenge.
URGI is coordinating or contributing to several major projects of distributed infrastructures : the WheatIS international project, the information system of the French National Phenotyping Network and French node of the European Plant Phenotyping ESFRI , the portal of the french Biological Resource Centers for agronomical research, the transPLANT European bioinformatics portal . URGI is also involved in the development and maintenance of an international standard related to plant phenotyping experiments ( MIAPPE ), of trait dictionaries at the Crop Ontology format (grapevine, wheat, maize, pea, rapeseed, sugar beet, forest trees, ...) and of recommendations for data standardization for the community of researchers in plant biology. Finally, URGI actively contributes to the international BreedingAPI project, that develops standard APIs for plant genetics and genomics.
In parallel, URGI is developing and testing in GnpIS approaches (i) to cope with the integration of big and heterogeneous data based on NoSQL technologies and indexes and (ii) to improve the quality and the easiness of its query system based on semantic technologies.